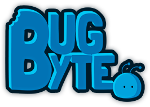 Home // Battlestation-harbinger-on-mobile
Get Battlevoid: Harbinger from buttons below!
Experience the same version also on your Android or iOS device, with an optimized user interface for mobile devices! Battlevoid: Harbinger has been praised for being great both on PC and mobile, with an average rating of 4.6/5. NOTE! The game has cloud save so you can upload and download progress between PC and mobile!

Bugbyte working on a new game, see it below!
Bugbyte Ltd.