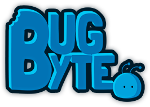 Current and upcoming Bugbyte games
Project Space Haven

We are planning and designing something completely new. In this Banished/Settlers inspired game you are tasked with building a new space station outside a barren planet at the wild sector 57. Your main mission is to build a thriving space station colony, able to defend itself against space pirates and the like, and giving human forces refuge at sector 57.
You get to design the space station yourself by building corridors and different types of rooms, working together to create a self-sustaining colony. Different types of resources can be gathered from the barren planet near the station with transport shuttles. You need to build but you also have to defend against space pirates and deal with different elements causing damage to the station.
Battlestation: Harbinger (Android,iOS, PC) (Released August 2015)
Battlestation: First Contact (Android,iOS) (Released October 2014)
Battlestation: First Contact for Android and iOS devices. Battlestation: First Contact is free, with additional episodes available to buy. Enjoy the game!


Battlestation: Classic (Android) (Released May 2014)
Bugbyte Ltd.