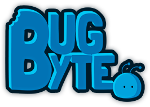 Drop us a message!
Want to ask us about something or need help? We usually answer within a day.
Remember to input your e-mail carefully so that we can answer.
Twitter
"Watch blahc stream Battlevoid: Sector Siege! https://t.co/snA6lIHK3Z #gaming #gamedev https://t.co/zOMm7dtIQy"
"A nice piece of rock! Time to mine. https://t.co/AJPggQLPGN #gamedev #indiedev #indiegame https://t.co/zhUe8V0EqV"
Be the first to play the new game!
Bugbyte Ltd.